DOWNLOAD

6 FREE

PROGRAMS HERE
Welcome to the FunkMMA Tribe.
My name is Funk Roberts, I am a former professional beach volleyball player (athlete) turned MMA Conditioning Coach, Master Metabolic Trainer, Certified Kettlebell Training Specialist, Core Conditioning Specialist, Mindset Coach and Certified Pain Free Performance Specialist.
My mission and purpose is to help 563, 284 combat athletes, coaches and trainers from around the world to be the absolute best they can through my teaching, coaching, writing and videos regarding strength and conditioning.
I have also fought a professional Muay Thai fight in Thailand and currently train MMA, Martial Arts and Combat fighters that fight in UFC, OneFC RoadFC, Bellator, Score Fighting Series and other major MMA and Combat organizations.
I launched FunkMMA Strength and Conditioning Workout Videos to help MMA and Combat Athletes with conditioning, training, and nutrition. Mixed Martial Arts is a new sport and because of this we have to step outside of our traditional weight training modalities and train like a high-level athlete, no matter what level of Combat Fighter you are.
My Journey Wasn't Always Smooth
At the age of 40 years old, I was working in the corporate world while running some fitness boot camps and decided to start training in a combat sport that I held close to my heart but was unable to practice due to my pro volleyball career.
When got back into the sport, it wasn't shortly thereafter I decided I wanted fight a professional Muay Thai fight in Thailand.
Talk about going from zero to sixty in seconds. I don't mess around.
I quickly found out that the intense training for a Muay Thai fight was kicking my butt and needed a game plan. Although I was a personal trainer, the old traditional weight training and long cardio sessions on the treadmill I was doing were not giving me any help during the 2-3 hour high intensity Muay Thai classes.
I Was Struggling and Needed to Find Ways to Excel
I was still sucking wind and finding it hard to learn the techniques I needed to win this fight. Even though I trained hard it just wasn't working.
Because I could not recover fast enough from the intense Muay Thai classes I started to miss conditioning training and even began to get sick often. My body was run down and I still hadn't made any progress.
I was stuck without knowing what type of workouts to do that would help with proper conditioning for Muay Thai, how to schedule my conditioning workouts so I could build cardio and strength and what to eat so I could burn fat, lose weight and recover faster between training.
So, I began to do my own research on strength and conditioning, ask other trainers, other Muay Thai fighters, began to get my MMA Conditioning certification and even enlisted the help of a nutritionist to teach me what to eat and when.
I then developed and customized my plan, made a complete change in my strength and conditioning program, developed a scheduling template so I never missed workouts and made a complete overhaul in my nutrition, which I continue to follow 5 years later.
THE RESULT – I went from a 196lb to a 174lbs, fully conditioned, ripped, Muay Thai wrecking machine that went to Thailand and came our victorious with a second round knockout!
That is the main focus that I share with you. Strength and conditioning, training tips, scheduling workouts and the best nutrition so you can be the BEST COMBAT FIGHTER no matter what sport you are in.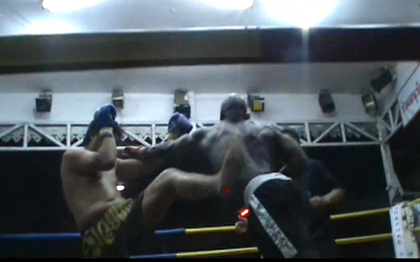 I am here to be your Virtual Strength and Conditioning Coach to help you become an Elite Fighter, Trainer or get into the best shape of your life.
You have just become part of the FunkMMA Tribe, which is collectively a community of over 800,000 other Fighters, Coaches and Trainer from around the world, with the same interests that you have. Improving your overall training and staying at the forefront of Combat Arts.
Over the years I have helped thousands of fighters of all skills levels, shapes and sizes increase their Strength and Conditioning.
ARE YOU NEXT?
What will you find on the website…
There will be new Strength and conditioning workout videos, valuable nutrition information, interesting blog articles, cool exercises, shared success stories, training secrets for Combat Athletes and much more!
I will email you weekly letting you know when there are some new posts on the website.
Since you are new to the FunkMMA website, I thought it would be cool to start you off with a few links to the website and popular posts.
Enjoy and once again welcome to the FunkMMA Nation.
FIRST: FUNK FITNESS SHRED APP - Download my Funk Fitness Shred APP to get access to workout programs with follow along workout videos, 28 day programs spread into different workout categories using bodyweight only, dumbbells, kettlebells, resistance bands or a combine of all.
https://over40shred.com/funk-roberts-fitness-shred-workout-app
SECOND: Put FunkMMA website into your favorites right now. I want to make it easy for you to get information – http://www.funkmmablog.com
THIRD:  YOUTUBE CHANNEL – Subscribe to my YouTube channel so that you get first glance and access to new weekly workout videos that I post. I am always a couple of day behind when it comes to posting video workouts on the website so SUBSCRIBE to get them first
http://www.youtube.com/funkroberts
FOURTH: FACEBOOK – The FUNKMMA NATION starts here.  When you join you'll have a community of MMA ATHLETES, TRAINERS AND COACHES interested in strength and conditioning fitness and living their passion – ready to motivate and help you achieve whatever goals you have in your life.
http://www.facebook.com/funkmma
FIFTH: INSTAGRAM – Follow me on Instagram for weekly new videos, inspiration and motivation, plus get an inside look into the life if the Funkster
http://www.instagram.com/funkrobertsfitness
SIXTH: TRAIN HARD, FIGHT EAZY! – Each week I will challenge you to take action toward your goals. I will push you to Train hard and step outside your comfort zone in order to reach greatness.  I know there is an Elite athlete or trainer inside of you and I am determined to make sure you believe it. Along the way, I will keep reminding you to never settle for less than you're capable of.
DOWNLOAD MY

6 FREE MMA PROGARMS

BELOW